The French Ride Motorcycle Tours – Travel Bike Agency & Motorbike Rental

The French Ride

25 Bd Jean Charcot
73100 Aix-les-Bains, FRANCE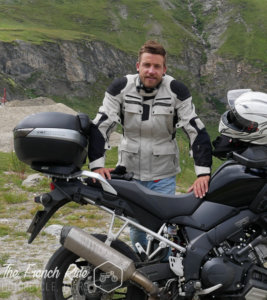 Just Outstanding

From start to finish Loic and The French Ride was truly outstanding. Professional and thorough, nothing was too much trouble for Loic for our 2 days self guided trip in the Annecy area. Bike was in immaculate, the loan equipment brand new and good quality, and the tour programmed to the last turn in the GPS. Also a really good route, amazing scenery, plenty of hairpins and the hotel booked for us was really nice. We will certainly use The French Ride again, and came away really satisfied in value for money. Think this is Loic's first or second year in business – but surely many more to come!
Ken and Lydie
Adventure of a lifetime

The roads and scenery! Like how did Loïc (the owner) find these roads? They were incredible! Well he did tell me how he found the roads; he said that he loves to ride and had fully explored them. My friend just texted me "I'm impressed and proud of you Trevor. I followed your whole motorcycle mission on Instagram. You did something most people only dream or talk about"…
Route des Grandes Alpes self-guided

We had a great time with my partner riding along the Alpes! The motorbikes are in fantastic condition and the tour was very smooth every step of the way. We highly recommend "The French Ride"!
Fantastic Weekend Adventure

I contacted several rental firms when I had a free weekend in Europe. Loïc was fast to respond and never tired of my constant stream of questions via email. He met me at the train station and within an hour I was headed out with the GPS guiding my every turn through fantastic roads in France, Switzerland, and Italy. The 650 V-Strom was quite new and easily up to the task of climbing, twisting, and descending through constant and unbelievable scenery. I'll be looking for another chance to spend time riding this area on one of Loïc's bikes. Great weekend rental experience. Personable and Attentive Service. Don't hesitate to engage with The French Ride !

Trip of a lifetime

French Alps by pillion : Trip of a lifetime, well planned, well prepared, all I had to do was arrive at the station and the rest was quite literally "in the wind". This was my first time in France, my first time through the beautiful French Alps, not to mention ridding on the back of a bike with a man I had never met before. Before I knew it I trusted him so much I was napping on the back of the bike and we were winding our way through to Annecy, and home again. Thank you The French Ride, I can't wait to come back again and have my next adventure! ❤️
The ONLY way to tour France by bike

We rented two bikes to travel to South of France and couldn't have been happier with our decision, from the booking to pick up and return it all went perfectly. The bikes we had were well maintained and in very good condition, as were the helmets and riding gear, the only thing I brought from home with me were my boots. Loïc is very knowledgeable, great to deal with and makes sure that you get to know the hidden gems of South of France. We appreciated that Loïc always took our needs and wishes serious and made our trip individual and unique. Couldn't recommend him more highly, we will definitely come back to see more of France by bike. Thank you for the fantastic experience!
An amazing experience

I took the solo 'Northern Alps Wonders' tour ride, 5 days through the French, Swiss, and Italian Alps. It was an incredible experience. The rides are fun and challenging, the scenery is constantly beautiful, and all of the hotels that The French Ride handles for you were very clean and accommodating. The bike (V-Strom 1000) was in excellent shape and great for the mountain roads. Loïc is an interesting an helpful guy who stays very professional even when something goes wrong. If you ride, and plan to go to Europe, you cannot pick a better way to spend 5 days !
Truly a trip of a lifetime !

What an incredible experience, truly a trip of a lifetime for us. Everything from our first inquiry on booking the trip to being dropped off at the train station was superbly organized and the level of customer service made everything so easy… Oh and the beauty of your country and the Alps left us speechless! Thank you.
Excellent service

Loïc is a very knowledgeable and respectful guide, he provided excellent advice before, during and after our tour. We did a weekend tour around Annecy and had a wonderful time, enjoying the French specialities with amazing views, great hospitality, and unforgettable memories! Definitely recommend The French Ride and already planning our next tour.
The best, I bet it !

Se querem pilotar uma moto em otimo estado de manutenção através dos alpes, esta empresa é excelente. O proprietário é muito profissional e atencioso. Nos proporcionou uma das melhores experiências em duas rodas que já tivemos!
If you are looking for a great ride experience, this is the right place to go. The owner is very professional and has great motorcycles. You have my word!
LIFE IS TOO SHORT !

This tour will not disappoint, from the advanced rider to the novice rider there is something for everyone, with a very well organised route and amazing views to having a laugh with the lads and ladies at the end of the day. Don't miss out ! Will be seeing you again for sure
The Best Moto Touring Agency in Europe !

The superlative motorcycle touring company. Amazingly execute and make your motorcycle tour a lifetime experience. Excellent Guys, Keep it up…
Excellent experience

An excellent experience all around. Fantastic bikes too !
Awesome ride !

Awesome ride, couldn't ask for anything more from this crew, 5 stars !
Great experience !

Great motorcycle tour and rental experience. Don't hesitate to engage with The French Ride !